A frameless glass shower screen custom designed and installed by M.C Glass & Glazing is the ultimate statement piece in any bathroom or ensuite.
With no frames creating visual clutter, a frameless shower screen is an elegant addition to a bathroom that creates a perception of spaciousness and openness.
A frameless shower screen also has the rare advantage of being both high-end and extremely easy to clean. With no frames, there's nowhere for dirt and germs to collect.
We can custom design and install a frameless shower screen to any size, shape and configuration including double showers, which are becoming increasingly popular.
An M.C Glazing frameless glass shower screen can be customised with a wide range of handles and fittings as well as your choice of glass finish. We offer the following glass options in addition to standard clear glass.
Acid Etched Glass
Acid etched glass features a soft, satin like finish that creates a subtle obscuring of silhouettes and slight blurring of anything seen through the glass. The effect is created by etching the surface of the glass with acid, so there is very little maintenance required and, unlike effects created with vinyl, no risk of peeling.
Low Iron
Low Iron is a clean, super clear type of glass which is transparent, unlike clear toughened glass. Low Iron glass is specifically noticeable when viewed against a coloured background.
Whichever finish you choose, all our frameless shower screens are made from the highest quality glass available.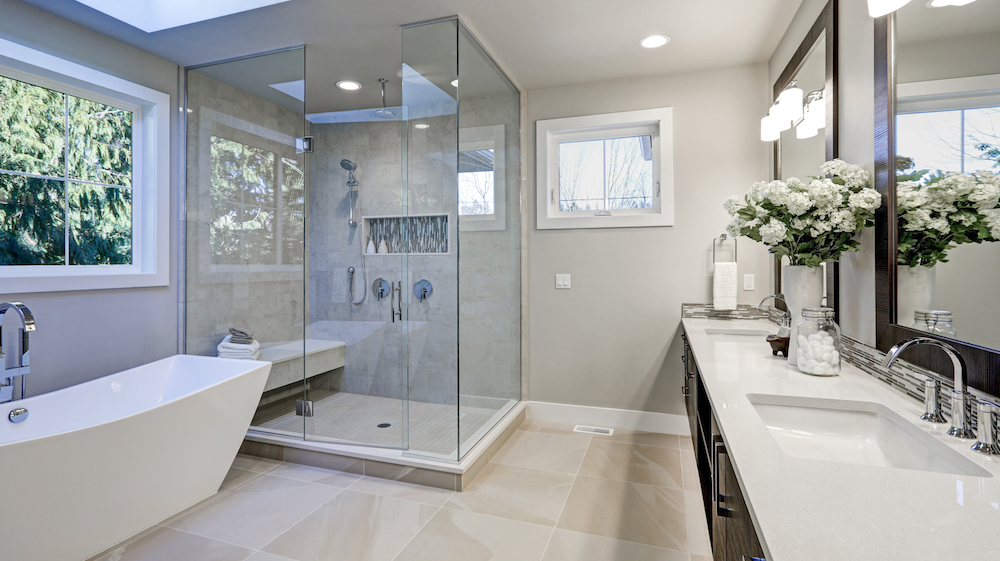 Want to know more about how M.C Glass & Glazing can transform your ensuite or bathroom into a luxurious retreat? Contact us today to find out how we can help you choose and design the perfect glass frameless shower screen for your home.
MC Glazing is a member of the Australian Glass & Glazing Association and all our frameless shower screens comply with Australian Standards AS1288.